Boston Dynamics is an engineering and robotics design company that produces advanced technology for the U.S. military with funding from the Defense Advanced Research Projects Agency (DARPA) and DI-GUY, software for realistic human simulation. In 2009, engineers at Boston Dynamics developed one of their most unique robots to date: BigDog. Heralded as the most advanced rough-terrain robot on Earth, BigDog can walk, run, climb, and carry extremely heavy loads. BigDog has four legs that are articulated like an animal's, with compliant elements to absorb shock and recycle energy with each step. Its control system keeps it balanced, managing locomotion on a wide variety of terrains. It runs at 5 mph, climbs slopes up to 35 degrees, walks across rubble, climbs muddy hiking trails, walks in snow and water, and carries 400-pound loads.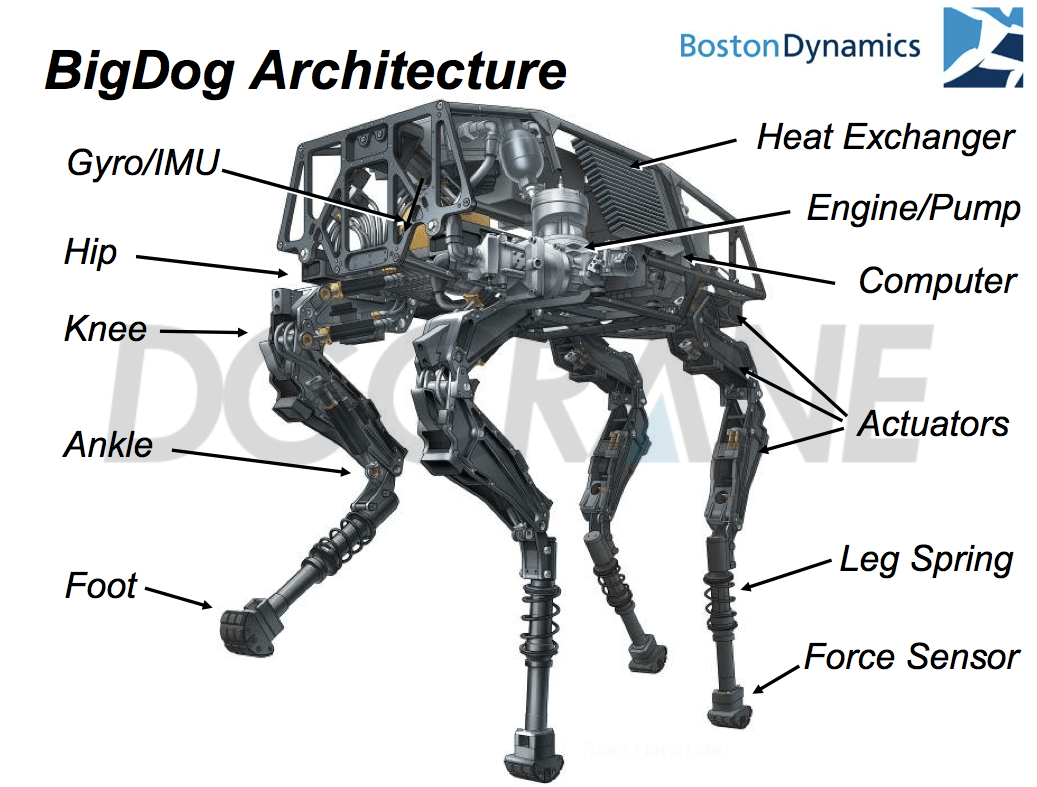 In 2009, Boston Dynamics started to inquire about an overhead crane system that could be customized to meet their testing needs. They were looking for a system that was extremely long¡ªto cover around 110 feet of their facility¡ªso that they could attach the robots to lanyards during the testing process. During the early phases of testing, they needed the lanyards to maintain control over their testing procedures and to arrest potential falls and prevent damage to expensive parts.
Engineers at Boston Dynamics eventually reached out to SDG Storage Products, a local Spanco dealer in Massachusetts. Initially, they inquired about the use of a basic I-beam crane that could be installed in their facility, which had very little headroom. While an I-beam crane could be installed in tight locations for lower headroom, it couldn¡¯t provide the kind of smooth rolling movement needed to effectively test their products. According to Spanco Rep Tim O¡¯Leary, ¡°The I-Beam crane didn¡¯t provide the easy movement they were looking for. The robot moves so quickly, it would have been like walking a dog on a leash.¡±?SDG Storage Products reached out to engineers at Spanco to develop a custom system that would both meet the needs of their facility and give them the flexibility of movement to test their products.
Spanco developed a completely customized Freestanding Workstation Bridge Crane and runway system. The 2000-pound capacity workstation bridge crane consisted of two 1,000-pound double girder bridges and a special tow bar. Their testing facility had a 10'3" clearance height overhead, and the bridge crane was ten feet tall. Spanco used two double girder bridges to give them as much additional hook height as possible in such a tight location. The system also included four trolleys, two per bridge, and 18-inch cantilevers on both ends for added flexibility. In it¡¯s entirety, the bridge crane runways covered the entire length of their testing facility at 121 feet, with each bridge spanning 19 feet.
According to Spanco rep Tim O¡¯Leary, engineers at Boston Dynamics were extremely pleased with the system¡¯s ease of movement and ergonomic design. Spanco¡¯s enclosed track V-shaped profile provides one percent co-efficient of friction, allowing smooth and effortless trolley travel. Compared to the five percent co-efficient of friction on I-beam and other patented track cranes, Spanco¡¯s enclosed workstation bridge crane was the only system capable of keeping up with their robots. Boston Dynamics was able to attach four SRL¡¯s, one to each bridge, which arrest potential falls while they conduct rigorous testing procedures on their robots.
Boston Dynamics continues to use the Spanco Freestanding Workstation Bridge Crane for all of their robotic testing and quality control initiatives. In 2012, they began to further develop the BigDog robot and refine its key capabilities. They needed to ensure its ability to meet the needs of dismounted warfighters before it was rolled out to squads operating under dangerous circumstances. They also needed to demonstrate its ability to complete a 20-mile run within 24 hours, while carrying a load of 400 pounds. That year, they furthered its abilities by adding an extra arm that can lift and throw heavy objects. Their newly refined system endured continued testing and development with the help of their fully customized Freestanding Workstation Bridge Crane from Spanco.