Compared with top running single girder eot cranes, double girder eot cranes have a much higher load capacity, and longer spans, higher Duty Group, and more flexible configuration for different working conditions, such as steel industry, explosion-proof place, isolated place, etc. Out of the responsibility and mission of double girder eot cranes manufacturer, we always help our customer choose the most suitable cranes for the special conditions. Same as other eot cranes, double girder eot cranes need support from the factory. With this limitation, they are commonly installed inside.
Double girder eot cranes VS Single girder eot crane
Structure – Compared with the single girder eot crane, double girder eot cranes have one more bridge beam. Because of the double girder, they are available to offering higher capacity than other cranes.
Lifting height – A trolley was equipped as the lifting mechanism that travels on the two bridge beams. The hook can be pulled up between the two beams, so double girder eot cranes offer a better hook height in the given room.
Adaptability – Due to the flexible configuration, double girder eot cranes are the ideal solution to meet the demands of special working situation, such as steel industry, explosion-proof place, isolated place, etc.
Technical parameters comparison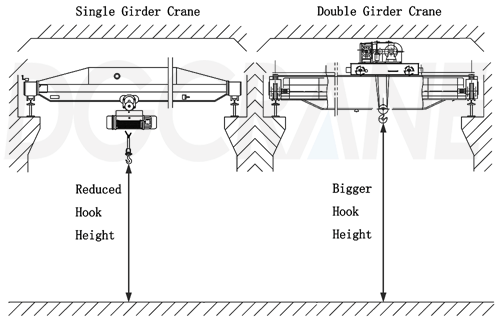 How To Choose The Right Double Girder Crane?
When choosing a crane, you will need to take several important aspects into consideration: your application, working environment, limitation of your facilities.
Applications: It is of great importance to make sure our engineer has known all the details of your requirements so that they can design or help your choose a crane that suits your application most, such as safe working load, where your want to move the load to, duty cycle and so on.
Working environment: An ordinary double girder eot crane will quickly scrap in an environment that filled with corrosive gas or of extreme temperatures. So, the environment is an important element to choose the suitable crane.
Your facilities: A double girder eot crane with the span of 30 m obviously can't be installed in the factory that the longest distance can be provided between two supporter is 20 m.
What can we do to serve you better?
We will first get thorough understanding of your application, building, your task and the problem. Then we will give your an reasonable advice after adding our specialized knowledge to the overall aspects.
Our professional engineers can tailored the productions depend your special demands. We also have the ability to implement new features such as service platform and auxiliary hoists for severe applications and harsh environments.
Every double girder eot crane has been thoroughly inspected. All the problems that may occur have been solved before the crane is transported from our factory.
With right operation, the service for your equipment can nearly reach to the minimum.
We can supply you with high quality components for maintenance, repair and crane modernization. You can even use them to assemble new double girder eot cranes. As professional component supplier, we also provide crane parts for cranes you purchased from other factory.
If you have problems in installing, our experienced worker can go to your factory to help you safely install the cranes.
Our service won't stop after selling the cranes to your. We will carry out customer callback plan periodical to know and solve your needs and problems.