When the spare room of your plant or factory is not sufficient to install a gantry or an overhead crane, a jib crane is the ideal solution. As one of fast growing jib crane manufacturers, we pay high attention on the quality and safety.
The main idea to solve this question is to let the beam rotate instead of traveling along a track to cover the area in which the material need to move. If required, the beam of this kind crane can horizontal rotate for 360 degree. At most cases, the more area covered by the rotation of our crane, the better. But some special environments prefer to a limitation of the equipment's rotation. In either case, our machine can meet the requirements.
This kind cranes can rotate by manually or electrically control. You can choose the control mode base your actual situation. And, generally, it is suitable for use under the working strength of medium-load or light-load.Safe working load can up to about 10t.
Because of the jib crane's favorable structure, it can easily adapt to the customers specific requirements and can be installed in any position such as floors and walls .In order to save money and seek convenient, combined with our customers' actual situation, our experienced designers can even mount the cranes on the existing columns or other crane's beam.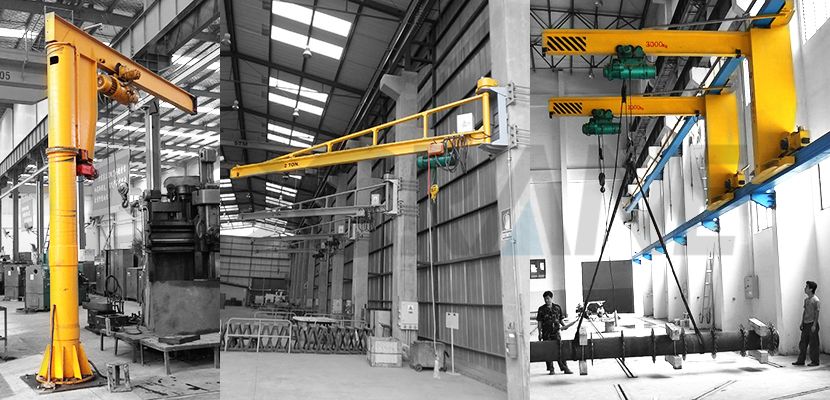 OUR JIB CRANES' UNIQUE FEATURES
Because of the accurate of the beam alignment, the beam and trolley are in better control. The unintended movements of beam and trolley can be minimized and so does the possibility of damages to the crane operaters and the equipment itself.
There is a great diversity of operation types from full manual to full powered. You can choose the most practical way for yourself according the special situation. Each installation type such as wall, column and freestanding mounting is available.
The negative effects of off-center loading on jib crane's quality is not being taken seriously by most jib crane designers. To eliminate off-center loading problems, we designe the slide the die set on the press bolster to make the highest load move towards the press centerline.
We have advanced technology on getting the optimal highest hook position applied to low headroom jib cranes. And our wall mounted jib cranes can squeeze into the tightest plant, warehouse or other industrial space. So, the scope of available installation space is bigger and the utilization rate is higer.
We add an emergency stop system to strength safety. If the operation staff encounter some emergency situation, we could start the emergency brake system to protection the related treasure.
Most important of all, we always keep our customer's safety in our mind!