Catalog
If Your Crane Hooks Have These Issues, Replace Them Immediately!
In actual production processes, safety is the primary concern. While you may often maintain your lifting equipment, how long has it been since you inspected your crane hooks? If you notice any of the following visually noticeable conditions with your crane hooks, be vigilant and replace them promptly.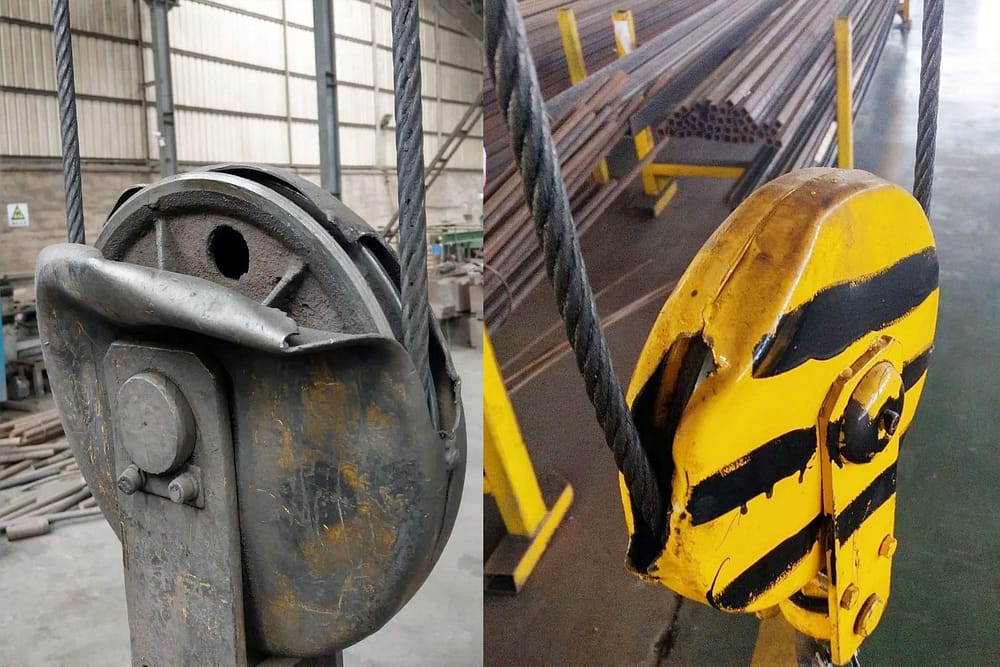 Damage to hook sheave guard due to failure of height limiter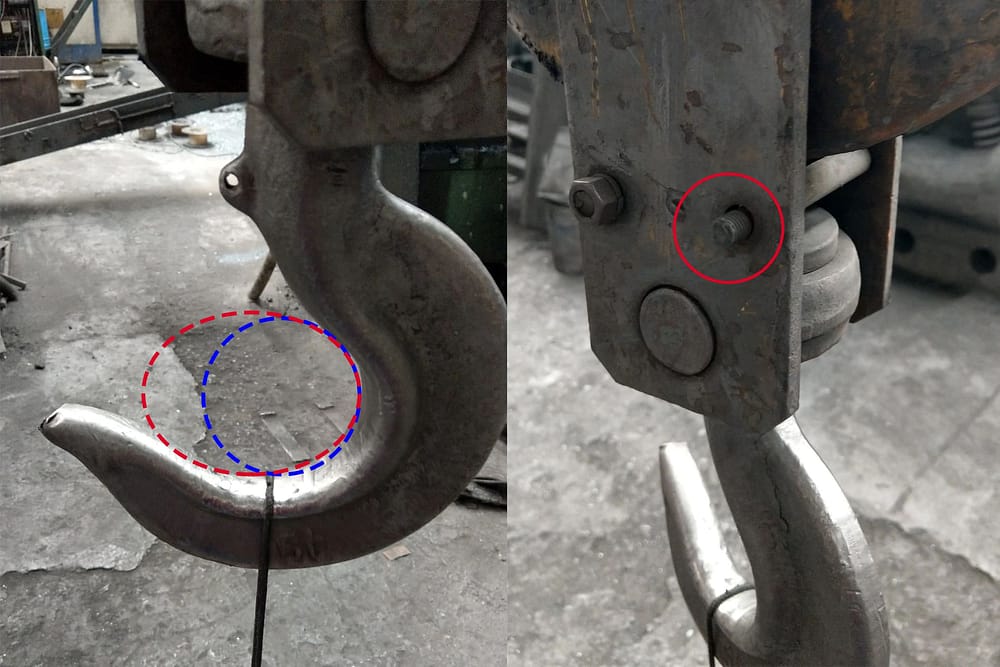 Excessive opening / Dislodged anti-detachment device / Missing hook plate bolts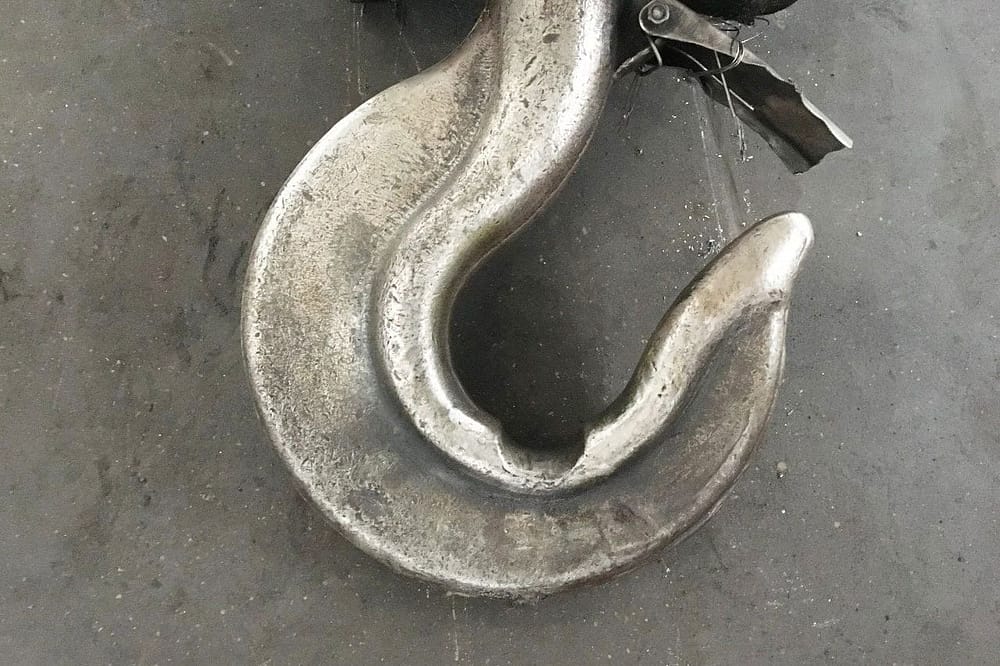 The hook bottom wore out / Failure of the anti-decoupling device
Even if your hook hasn't deteriorated to the point of exhibiting the aforementioned conditions, some minor damages can still be detected through non-destructive testing. If replacements are needed, the next step you should consider is finding a reliable supplier to purchase crane hooks. Completing the entire process from inquiry to replacing a new hook in 20 days, a Vietnamese customer of DGCRANE demonstrates with a real case that overseas procurement of crane components is much easier than you think!
In 20 Days, The Vietnamese Customer From Inquiry To Installation. Buying Crane Hooks Are Much Easier Than You Think!
Day 1 Is My Equipment Compatible With Your Crane Hooks?
Our hooks are compatible with most lifting equipment: commonly seen overhead cranes/gantry cranes/jib cranes/electric hoists/crane trolleys frequently found in factories: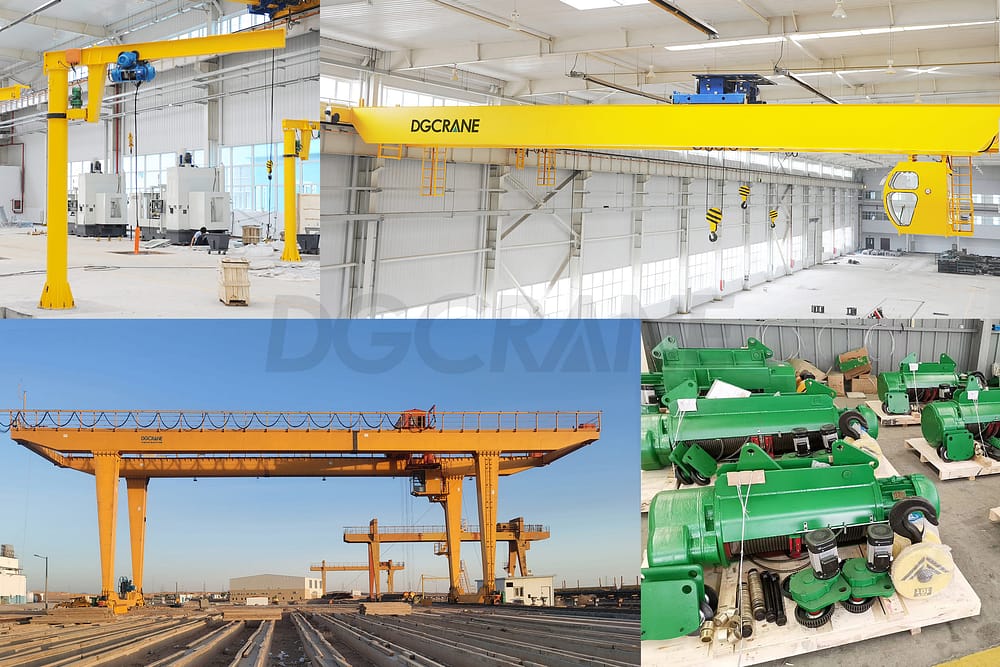 They are also used for equipment with lifting needs such as automotive cranes/tower cranes/port gantry cranes/quayside container cranes: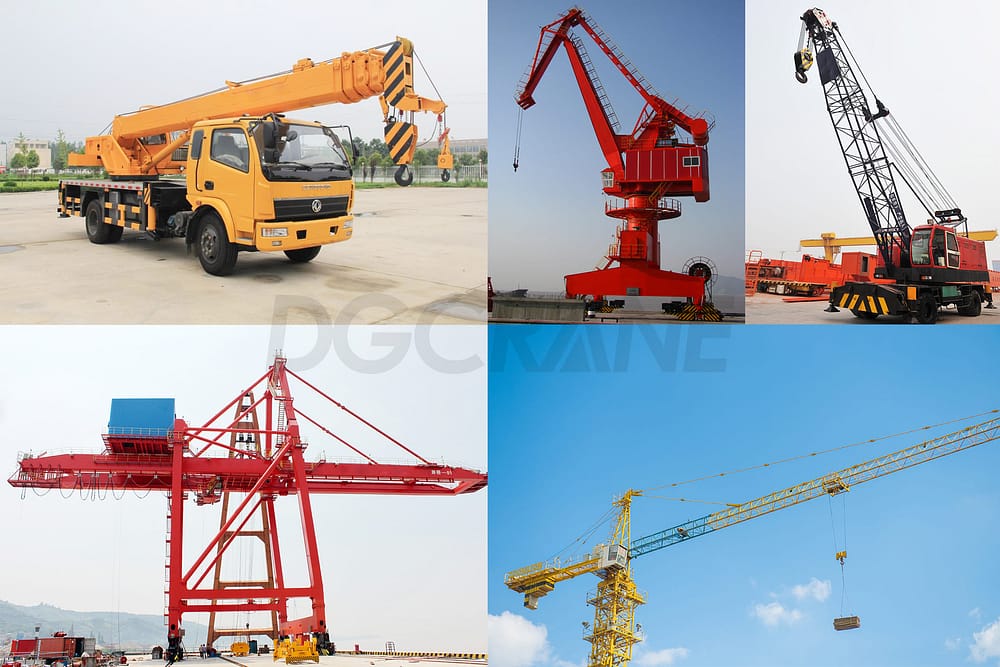 As long as you confirm our hooks can fit your equipment, you may not even need to provide us with too much information. For instance, this Vietnamese customer only provided requirements for lifting capacity, wire rope diameter, and the number of pulleys.
Day 1 What the customer needs to do: Simply provide some parameter and requirement information.
Difficulty level: ★☆☆☆☆
Day 2 Optimal Transportation Solution from China to Vietnam.
Understanding transportation and payment plans is an essential step before signing a contract. General transportation options include road transport, railway transport, sea freight, air freight, or multimodal transport. Different transportation options exist based on geographical locations for shipments from China to various countries. For example, for shipping from China to Vietnam, the options include road transport, railway transport, sea freight, and air freight.
Road Transport
Shipping from China to Vietnam via road requires passage through key land border crossings and routes. The advantage is greater flexibility in route and transit station selection, allowing for direct delivery to the destination. Disadvantages include relatively higher costs due to factors like fuel prices and longer transportation cycles.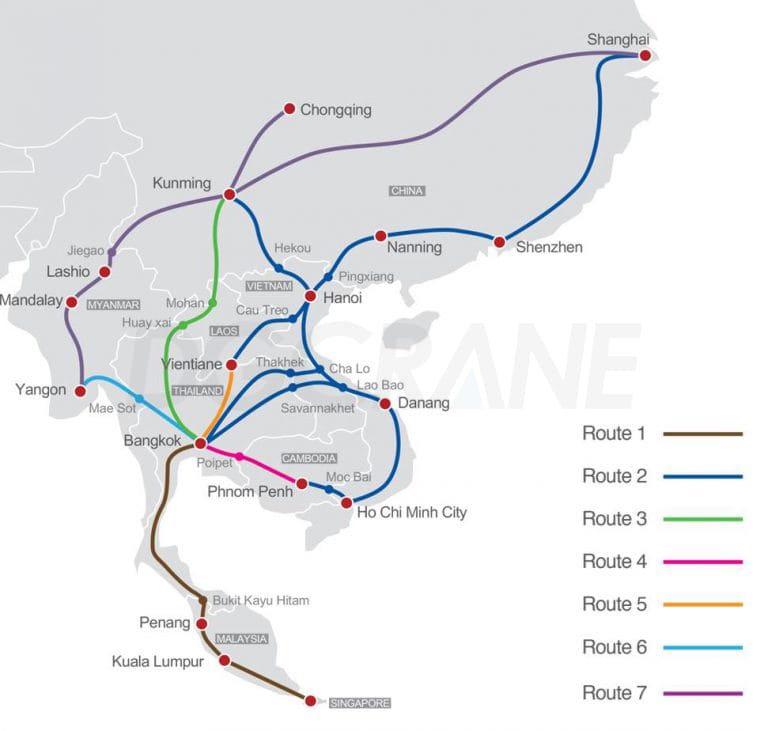 Railway Transport
As part of the New International Land-Sea Trade Corridor (ILSTC), railway services connecting Western Chinese cities to Hanoi commenced operations in March 2022. Railway transport offers advantages such as environmental friendliness and stability, with transportation cycles unaffected by weather and traffic conditions. Costs fall between sea freight and air freight. Drawbacks include limitations on cargo dimensions and weight, slower speed compared to air freight, and it's not suitable for urgent deliveries.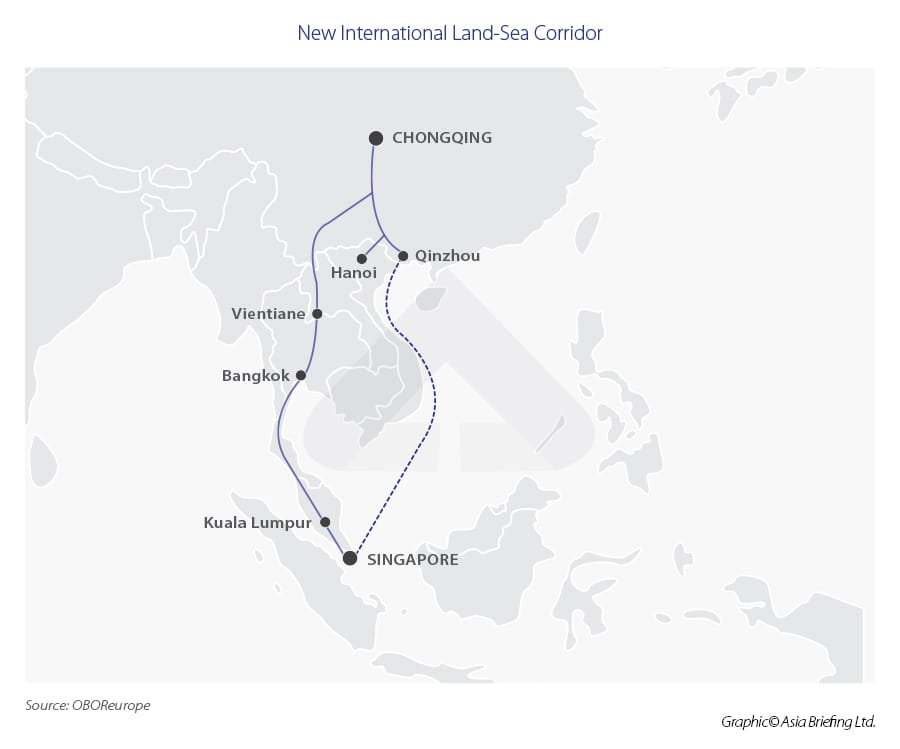 Sea Freight
There are multiple available routes. Advantages include higher capacity, environmental friendliness, and relatively lower costs. Drawbacks include slower speed and unsuitability for urgent deliveries.
Shipping cycle from China to major ports in Vietnam
| | | | |
| --- | --- | --- | --- |
| | Haiphong | Da Nang | Ho Chi Minh City |
| Hong Kong/Shenzhen | 1-3 Days | 5 Days | 3-7 Days |
| Dalian | 9 Days | 12 Days | 10 Days |
| Tianjin | 11 Days | 18 Days | 10 Days |
| Qingdao | 7 Days | 12 Days | 9 Days |
| Ningbo | 6 Days | 9 Days | 6 Days |
| Shanghai | 5 Days | 10 Days | 7 Days |
| Guangzhou | 1-4 Days | 5 Days | 3-7 Days |
Air Freight
From major Chinese departure cities like Beijing, Shanghai, Guangzhou, etc., goods are transported via international flights to key Vietnamese airports, such as Tan Son Nhat International Airport in Ho Chi Minh City. This is the fastest transportation method, suitable for urgent deliveries and time-sensitive cargo. Drawbacks include higher costs, often several times more expensive than other transportation methods. It is suitable for high-value goods, but there are limitations on cargo dimensions and weight.
The choice of a specific transportation solution depends on factors such as the nature of the goods, urgency, cost budget, and delivery timeline. This Vietnamese customer, due to compressed production schedules, opted for sea freight LCL (Less than Container Load) to minimize costs. They selected this method from Tianjin Port, which took 10 days to reach the specified port in Ho Chi Minh City as part of their production timeline.
Day 2 What the customer needs to do: Where should we transport the goods? Provide transportation preferences based on project requirements - prioritize time urgency or lower costs?
Difficulty level: ★☆☆☆☆
Day3-9 Producing The Required Crane Hooks Within 7 Days
After our brief communication and drawing confirmation, the customer is suitable for our standard products, because of this, greatly shortened the delivery time of this transaction, from the customer order to shipment, a total of 7 days.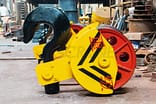 For inquiries without specific requirements, we have a stock of standardized products, such as:
The capacity of Single Hook: 5t/6t/10t/12t/16t/20t/25t/32t/40t/50t/63t/80t/100t/125t/160t/200t/250t
The capacity of Double Hook: 10t/12t/16t/20t/25t/32t/40t/50t/63t/80t/100t/125t/160t/200t/250t
This approach allows for the maximization of production efficiency, saving both parties time and costs. The customer's production timeline was compressed to 7 days. Ultimately, the product parameter details we provided to the customer are as follows:
Lifting capacity: 16t
Hook material: DG20
Pulley material: Q235B (rolled pulley)
Shell material: Q235B
Pulley Qty: 2 pcs
Production cycle: 7 days
Shipping cycle: 10 days
Destination: Hanoi, Vietnam
Transportation: Ocean freight LCL
Of course, for crane components like these, if you have drawings, we will strictly follow the drawings for production. Alternatively, if you have specific requirements, we have a team of professional engineers who can engage in detailed communication with you to establish the most suitable solution for your needs.
Day 3-9 What the customer needs to do: Occasionally inquire about the production progress.
Difficulty level: ☆☆☆☆☆
Day10-19 Rigorous Packaging Ensures The Integrity of Crane Hooks During The 10-day Sea Shipping Journey.
To ensure the crane hook's integrity upon delivery to the customer, tight waterproof measures and sturdy wooden crate packaging are the optimal choices. We communicated with the customer about the transportation mode and chose shipping LCL, requiring a total of 10 days. For smaller components like these, we recommend using LCL (Less than Container Load) packaging, which offers cost savings.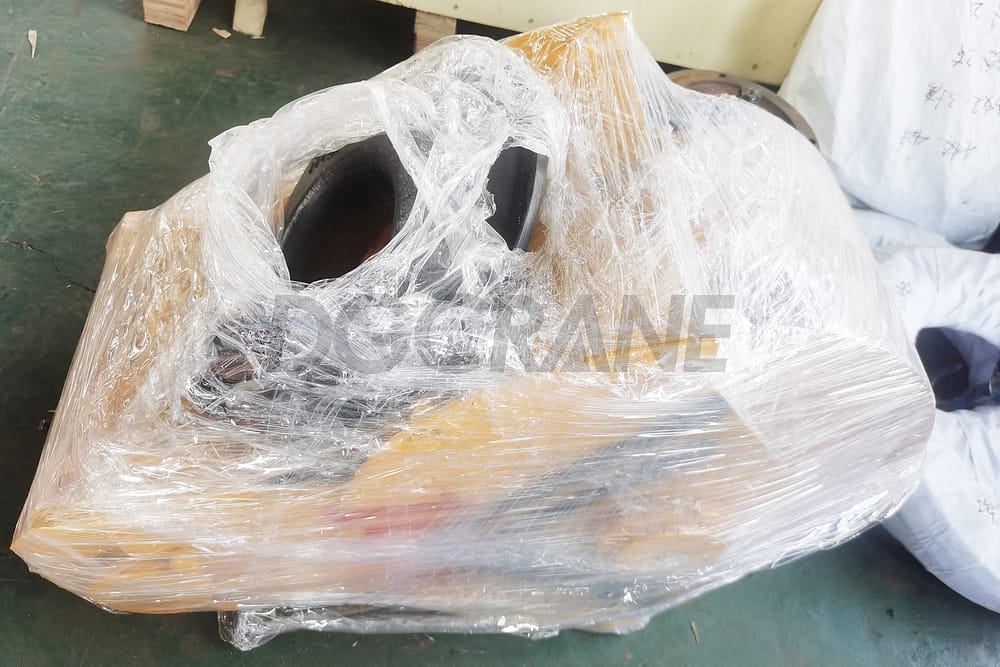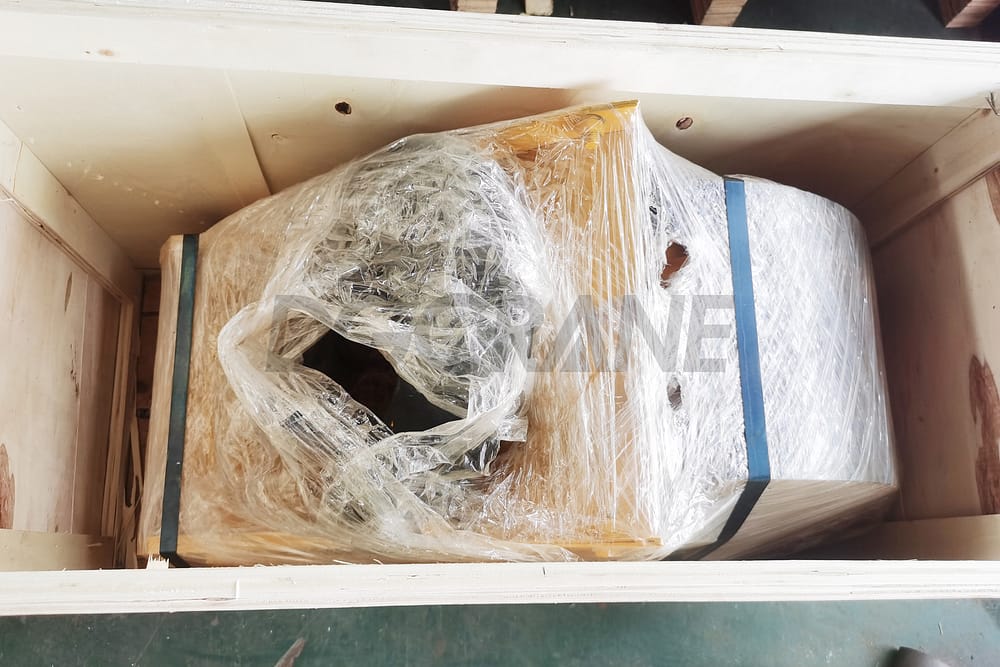 Day10-19 What the customer needs to do: Prearrange a local transportation plan, and if you've opted for a door-to-door service, just wait for the delivery.
Difficulty level: ★☆☆☆☆
Day20 The Installation of Crane Hooks is Also Easy
Upon the arrival of the goods, please ensure the product's integrity. For the installation of crane hooks, we have created a video demonstration for your reference. Since there are many types of lifting equipment to which the hook is adapted, the most common type of overhead crane is used here as an example. If you need to elevate, please operate while maintaining proper safety measures.
Fasten the safety belt
Remove the rope guide
Remove the wire rope and take it out of the old crane hook.
Cut off the knotted wire rope
Thread the wire rope into the new crane hook.
Install the wire rope
Install the rope guide
Test completed
If you still find it complicated, we can put you in touch with your local installation team that we have been working with.
Day 20 What the customer needs to do: If your team has professional personnel, they can follow the video or the documents we provide for installation. Yes, indeed, it's as easy as demonstrated in the video. If not, you should prearrange a local installation team. As a company with over a decade of experience in crane trading and export, we also collaborate with installation teams in some countries. If needed, please consult us!
Difficulty level: ★★★☆☆
In Conclusion: What Do You Need To Do?
The way to check the crane hook is very simple: such as visual inspection for bending/twisting/cracking, or practical non-destructive testing;
The process of purchasing crane hooks is also very simple: you provide us with your crane to match the lifting capacity/wire rope diameter and some special requirements, and we can provide you with the right program for you;
Transportation crane hook program we will choose for you to suit you, you want to arrive in a more timely manner or more affordable program, we have a wealth of experience in doing foreign trade exports in this regard, this point you do not need to worry about;
Installation of crane hooks is equally simple, if the video gives you guidance is not detailed enough, you can also contact our salesman, we have a professional team of engineers to provide you with technical support;
So, if you have any need for a crane hook, feel free to contact us. Please let us use our expertise to solve your problem!