5Ton LDC type overhead crane, span 10M, lifting height 4M, travel length 25M
steel structures to support the 5ton overhead crane, including standing columns(pillars), runway beam and connection beams.
On September 20th, 2017, we got an inquiry from Mr. Prabhu, he sent the same inquiry to many companies, looking for an overhead crane with 5ton capacity to handle finished good loading in his new workshop.
The moment we received his inquiry, we contacted Mr. Prabhu, thanks for his best cooperation, he sends us pictures of his workshop being built. After checked the workshop pictures, we noticed there is no steel structure to support the overhead crane inside his workshop, our professional engineers designed our solution accordingly. We offered him a complete solution for overhead crane with steel structures, Mr. Prabhu loves our solution and shows great interest in it!
Considering the workshop is being built, in order to save cost for the customer, when designed the overhead crane, our engineer designed it to be low headroom type, compared to normal type, the Low-headroom type requires shorter workshop height than the normal type, which also impressed Mr. Prabhu.
After studied our solution and quotation for the crane, and compared to other companies offered, Mr Prabhu decided to choose us. But since he never bought crane from China before, he is a little worried. He told us about his concern and we also shows the most welcome for him to visit our factory. He is too busy, finally, he asked his friend Mr Arun who has office in China to visit instead of him.
On October 25th, Mr. Raja from Arun¡¯s office in China came to us. He arrived in Zhengzhou Xinzheng International airport. Take every customer like our family, we arranged the car to pick him up from the airport. When we met time was about 11:00 pm. We drove to the hotel booked earlier for Raja and helped him to check in. Seeing him checked in and rest, we back to our home. 8:00Am early next morning, after Raja had the breakfast, we picked him up from the hotel lobby and drove to our factory.
First, we had a small meeting and showed our company video to Raja. The video impressed Raja so much, after the video, we showed his around our factory, from our lab, then the workshop of our single girder overhead cranes, double girder overhead cranes, trolley assembly workshop, electric wire rope hoist workshop, steel structures workshop, and electric workshop. Each workshop are equipped with many advanced modern production equipment, Raja took so many pictures during this visit and spoke highly of our factory and our professional team. The single girder overhead crane workshop and the steel structures workshop are related to the production of Mr. Prabhu crane, we answered each details Raja asked and took many videos for him to show to Mr. Prabhu.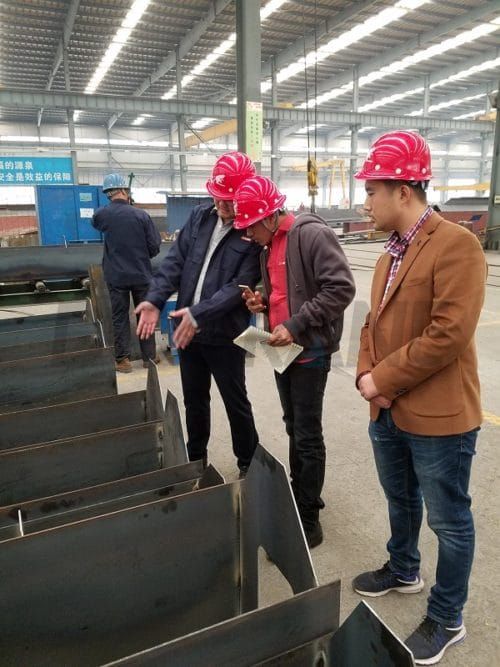 After Mr. Raja¡¯s visit, Mr. Prabhu has no any doubts and concerns, he placed the order directly to us. We started to arrange the production after received the advanced payment. Since the industrial voltage in India is 415V, 50hz, 3ph and it is hot season for cranes, the delivery time is 30 days, after got final confirmation from Mr. Prabhu for the overhead crane drawing and the steel structure drawing, our factory started this order and we finished within the time. Then we informed Mr Prabhu about this update.
Mr. Prabhu cares a lot about the quality of crane, his friend Mr Arun sent Raja to us again to inspect the goods. Raja is a hard working guy, he took lots of photos of the crane girder, the end carriages, the hoist and the steel structures. After checked all the details of the products, Mr. Prabhu is very satisfied.
Finally the crane with its steel structures exported to Mr Prabhu smoothly, during the loading our worker also took lots of loading pictures for record and we sent them to Mr Prabhu for his reference. Mr. Prabhu is quite satisfied.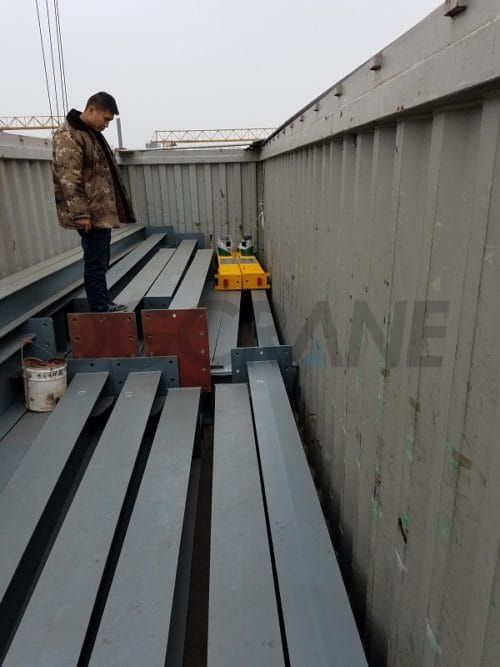 March 2018, got good news from Mr. Prabhu, he told us his new workshop is ready and asked us to send engineers to his site to help install the crane. We immediately applied E-visa for our experienced engineer, after E-visa ready, Mr. Prabhu also booked the round-trip tickets for our engineer.
When our engineer got to Mr. Prabhu¡¯s site, their workers have already made the foundation for the steel structures and connected the steel structure. Since they are not very professional about it, there are some problems with the steel structures, our engineer guided them to correct it. The whole process went on smoothly, all the installation time only took 4 days! Unbelievable! Our engineer also commissioning the crane for customer and helped to train workers on site.
The moment all the works done and the crane started to work, all the people cheered! Everyone feels so exciting and there¡¯s no difference between countries, language, just good friends working together and achieved their goal. It is a success case. To show his thanks to our engineer and to the happy cooperation between us, Mr Prabhu even drove our engineers to the famous places near his workshop and took him around for a whole day! Thanks so much to him, our lovely India customer. I¡¯m sure after this cooperation, we¡¯ve become very close friends across countries. And we are also here sincerely looking forward to your visit, our lovely friend!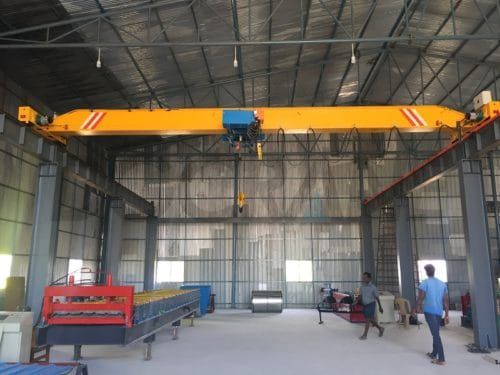 Whenever you have demands, come to DGCRANE, we will offer you the most suitable solution and make you feel happy and satisfied during cooperation with us!