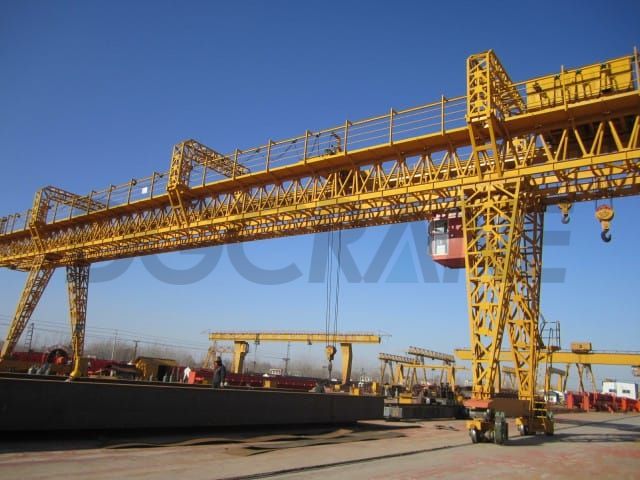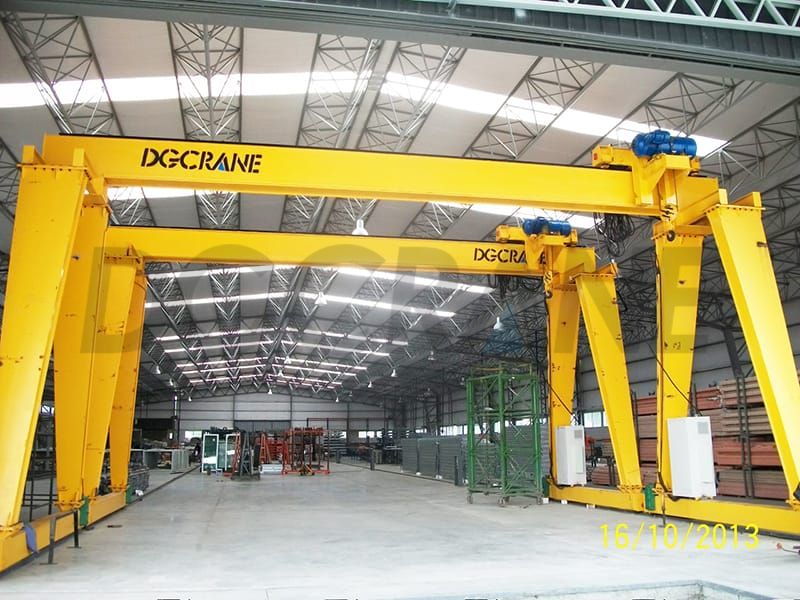 The gantry crane is very useful for moving equipment in a variety of different locations. Depending upon your needs, Gantry cranes can be used either indoors or outdoors. Moving products like HVAC systems or other pieces of utility equipment can be easily accomplished with a gantry crane. Since they are adjustable and portable, the gantry crane is perfect for adapting to different job locations.
Gantry cranes work the best on a smooth factory floor, but, some models have wheels that allow you to travel across different outdoor terrains. Our cranes are mounted on polyurethane casters for a smooth surface and pneumatic tires are an option for outdoor terrain. When you need to move something in a factory, the gantry is the ideal solution. When you need to transport materials on a construction site or in a specialized industrial location, the gantry is perfect for that too.
One of the optimal things about having a portable crane is that it does not need a permanent foundation in order to be stable. Because the gantry is designed with a wide base and other adjustable features, the gantry can adapt to almost any situation (within the laws of physics), all without a need for a permanent foundation. This makes the gantry an ideal tool for people who are renting their production space, do not have a foundation or ceiling that can support high capacity lifting,? or for people who do not want to put a permanent installation into the floor of their building.
Some gantry cranes are made from lightweight aluminum and can support materials that reach a maximum of 3 tons. The PF series of gantry cranes have the ability to be motorized. Attaching a motor to a high capacity crane allows you to move heavy things more easily. There are three different models of motorized gantry cranes: two use track and the third does not. Motorized gantry cranes are designed to assist people when they are moving heavy equipment in a production facility.
Since the gantry can be used without a permanent foundation, the gantry is the most economical and portable crane available. Explore the different options below to find out if there's a gantry that can meet your needs. If you do not find what you're looking for, call one of our representatives to discuss your application requirements.
MODELS AND SPECIFICATIONS:
T SERIES (THREE-WAY ADJUSTABLE):
All steel construction
Maximum Capacity: 10 ton
Overall Span: 40'
Overall Height: 24' 3"
Steel construction with aluminum I-beam
Maximum Capacity: 3 ton
Overall Span: 15'
Overall Height: 19' 8"
A SERIES (NON-MOTORIZED):
All steel construction, adjustable and fixed height
Maximum Capacity: 10 ton
Overall Span: 40'
Height under I-Beam: 16'
All aluminum construction, adjustable height
Maximum Capacity: 3 ton
Overall Span: 15'
Height under I-beam: 12' 2"
E SERIES (NON-MOTORIZED):
Steel construction, fixed height
Maximum Capacity: 5 ton
Overall Span: 12'
Height under I-beam: 10'
Steel construction, adjustable height
Maximum Capacity: 3 ton
Overall Span: 11' 6"
Height under I-beam: 14'
PF SERIES (MOTORIZED AVAILABLE)
All steel construction
Maximum Capacity: 15 ton
Overall Span: 50'
Height under I-beam: 35'