Qatar Fixed model gantry crane project
One set 20 t Fixed model gantry crane exported to Qatar on 10th November 2012 in two 40 HQ containers.
Mr. Mohamad , who is our client, He is very nice to communicated with us and help us to make the best suitable design for his company. Such gantry crane is very special designed according to his real situation, as you can see the lifting height is 29 m, but the total length of such gantry crane is just 4 m, which is very convenient for him to go deep from the ground.
The specifications as follows:
lifting capacity: 20 t
lifting height: 29 m
Span: 15 m
crane height above ground: 4 m
application: road and bridge engineering, such gantry crane can be easily moved and fixed to other places, help worker to put heavy reinforced concrete columns into the deep drilled wells, and do some pouring, fixation works.
At first, he sent to us some pictures of other small cranes with simple supporting structure to show what kind of he needed, like the following pictures show: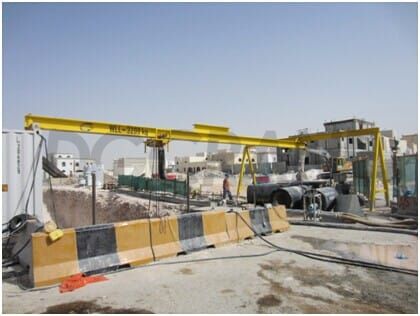 Then our engineers made the following design according to our client's demand:
After our client had confirmed such design, we began to produce it. During the process of the producing, we pay close attention to the quality.

When the gantry crane was finished, our people will packaged it and contacted with our forwarder to send containers to our factory to load it.
Later the 20 t fixed special gantry crane had been carefully packaged and sent to our client's country.