Russia - 2 sets overhead crane spare parts(one is 12.5 t L D overhead crane,the other one is 5 t L X overhead crane)are loaded in one 20' OT container and are delivered to Russia dated on 11th,Apr.
Specifications: 12.5t LD overhead crane-Span length:22.5m,Lifting height:9 m.
Specifications: 5 t L X overhead crane, span length:12 m, Lifting height: 9 m.
Working grade: A 3
Industrial working voltage: 380 V/50 HZ/ 3 Ph
After several months efforts to provide quotation and track, we singed long-term cooperation contract.

Crane parts include: end beam with traveling mechanism, steel wire rope electric hoist, electrical cabinet, slide wire current collector etc. To protect the crane spare parts and end truck from rain, all the parts are wrapped by waterproof cloth before they are putting in the wooden box.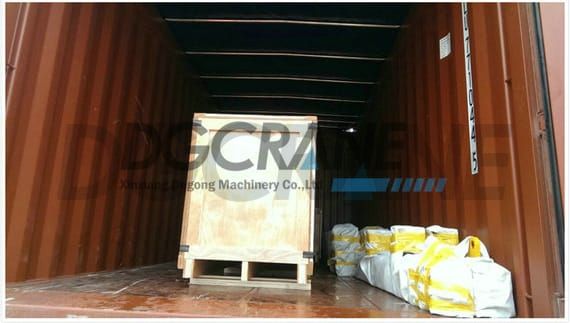 After all the crane spare parts were counted and packed well, our workers finally put them in the container.
From the moment that our customer sent the inquiry to us, we assigned a professional worker fully responsible for the business from design, produce, upload, transportation and after-sale. We aim at build long time business cooperation.