Saudi Arabia single girder overhead crane
Products: Single girder overhead crane
Specification: 5 Tons, span length: 23 M, Lifting height: 7 M.
QTY: 1 set
Delivered by: 40 FEET CONTAINER
This 5 tons single girder overhead crane actually is the second order from Mr.Bashir.
In year 2011, Mr.Bashir sent us the first inquiry for 1 ton & 5 tons electric hoists. Mr.Bashir is quite familiar with hoisting equipment, as he gave us petty detailed information and made it clear enough within 2-3 mails.
After clarifying all details like max. Lifting load, lifting height, speed, and voltage, Mr.Bashir disappeared, for like 2 months. His purchase order for the 5 sets of 1 ton & 5 ton electric hoist was put to us in October, 2011.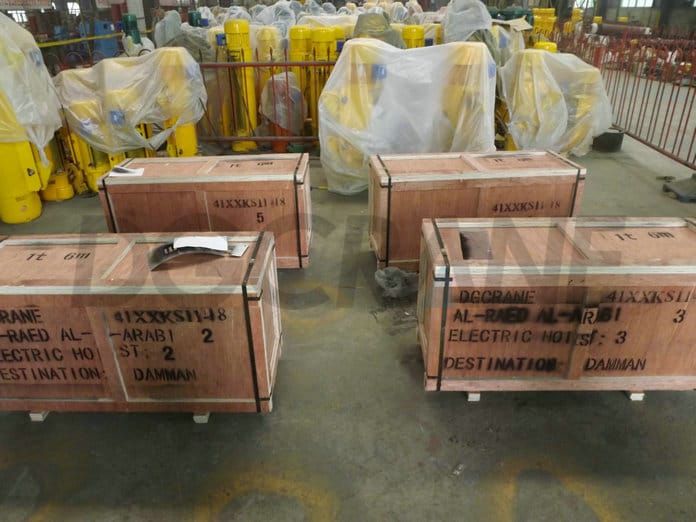 This is actually our first delivery to Saudi Arabia, and many thanks to Mr.Bashir, from this delivery we know that all exported products to Saudi should be marked with the origin on the package.
Regarding of this order for 5 ton Saudi Arabia single girder overhead crane, Mr.Bashir put the order after our engineers successfully solved the problems they came up with. When we check the plant layout, our engineers found out that pillars of the plant are not co-linear. Our engineers offers 2 options: 1. Plant some pillars to make sure overhead crane works. 2. Gantry crane as alternative. After compare between the designs and costs, Mr. Bashir finally confirmed the order for 5 tons overhead crane.