Complete purchasing process
A proper design and model selection are the foundation of successful overhead cranes purchasing.
There are many essential issues that you need to concern seriously.
How heavy are the max loads and average loads to be lifted?
What is the use frequency of the crane?
How will the load be lifted and located?
How to improve the workers' safety when operating the overhead cranes?
How to increase the safety of the loads being lifted?
Take it easy, oure professional enginners will take all your situations in consider.
This will save you time and money in near and futher future.
You'll get a great crane at an affordable price (even a suprise for you) because of our endevour.
A Click of Enquiry will server you more than you can imagine… a solution plan together with the quotation.
Flexible sale plan
Flexible sale plan
Just an glance at the Overhead Crane Costs Pie Chart shown on the left side, we will see that the transport costs are very high, and the Cross girder takes the most parts of it. If we can reduce this part, things will be different.
So, here comes two crane sale plan: Complete and Component.
A Complete Overhead Crane is a complete crane, containing trolley, cross girder, end trucks, electrification systems and all other parts needed in a crane. Before shipping, the crane is fully asembled and tested in our factory. While, of course, for the convenience of delivery, the crane will be disassembled when shipping. Due to the Easy Installation Feature of our crane, the installation will be simple. So this is the most comfortable, and time-saving way for your.
Except the cross girder, A Component Overhead Crane consisting all the rest parts. The huge steel structure (cross girder) will not appears in this sale plan. So most parts of the transport costs will be saved. In this way, your will need to provide the cross girder. we will provide the most complete drawings and instructions, so you can built it locallly, even by yourself.
Both A complete crane and a component crane have the same quality, the only difference is how much labor and steel you provide.
Quick response. Efficient crane purchase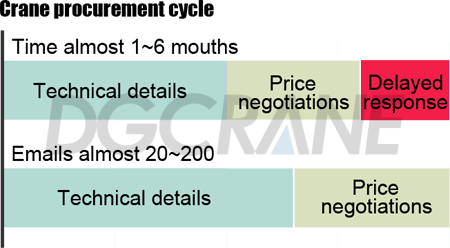 Time is money and more than money. We all have no more time wasted in endless inefficient communications.
Just as showned in left side, often crane procurement takes 1~6 mouths via even hundreds Emails. Only half of it is about technical details which is meaningful. The left time is exhausted by endless price negotiations and even worse the delayed response.
In DGCRANE, all inquiries will be responsed in 24 hours. We only focus on technical details and how meets your demands. With a Reasonable Price, we will not need to talk to much about the price and then our time will be saved.
Reasonable price for a crane deserve it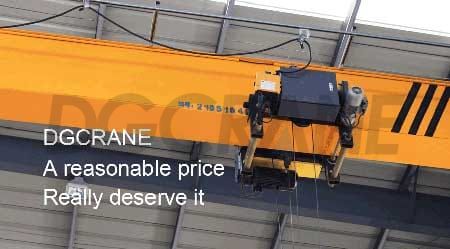 Reasonable price for a crane deserve it
Regardless of a crane user or a crane destributor, here cames a absolutely truth that everyone konws while always be neglected:
A bad crane will ruin you production efficience for a factory. A bad crane will ruin your brand.
In DGCRANE, we only sell a truthworthy crane with a reasonable price regardless the endless price competition. This is our bottom line.
If the price is not affordable for you, we have flexible sale plan to save your money, pls read more about the Flexible Sale Plan.
A solution rather than a price sheet
A solution rather than a price sheet
Crane is a professional material hadling equipment which is very important in factory.
Here comes some essential issues that you need to concern. Take it seriously that will save your time and save your money in near and future.
While, if your have no more time to do this, just tell us what you need. All the above concerns and even more will be considered. A solution rather than a price sheet will be available for you.
Ok, if you are professional, you can derictly contact with our enginners to discuss about the technical detals.
Trusted Partners on Your Material Hadling