Trolleys and Beam clamps are intended to fix onto a flanged steel beam, such as the type you would likely observe on a mobile lifting gantry, a Jib crane or an overhead crane. The chief purpose of a beam clamp or trolley is to offer a solid and safe anchoring point from which to add further forms of lifting devices, like hoists, for example.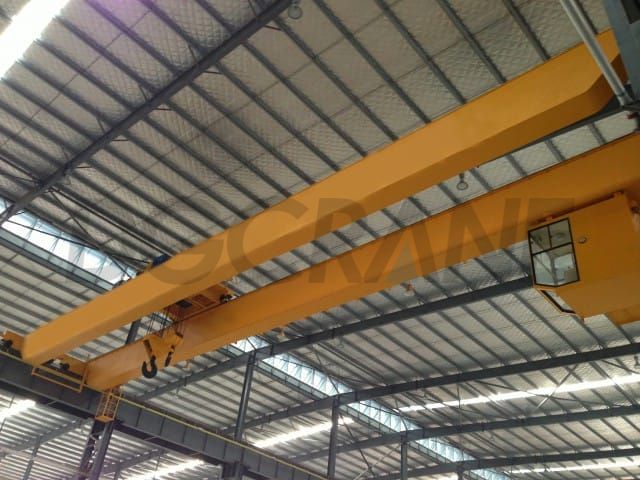 Let us now study the most important variations between a clamp and a trolley.
First of all, a beam clamp is exactly as its name states; it is a clamp that locks onto a steel beam. A semi-permanent lifting accessory from which to suspend a lifting device like a chain block, hoist or perhaps a lifting magnet. The beam clamp is classed as a semi permanent appliance because it is utilised in a fixed location whilst under load and cannot be moved, however when the load is detached the clamp is easy to disconnect and re-locate at another place along the beam. You can get many variations of beam clamps that have different fixing/clamping mechanisms, sizes and lifting capacities. Locking mechanisms are standard on a large amount of models and shackles are easy to attach to aid easy hanging of the lifting appliance. Beam clamps are very easy to mount and are sometimes utilised in pairs with a spreader beam however if used in this way take care to make certain no 1 clamp exceeds the safe working load. With lifting capacities of up to 10'000 kg there is certainly a beam clamp appropriate for most purposes.
A beam trolley similarly fits to the projection of an "H" beam and enables lifting machines to be fitted easily; that is where the similarities end due to the fact that a trolley has steel wheels to allow them to manoeuvre across the beam. The basic trolley is manually pushed back and forth whilst a geared model may be manoeuvred more easily by pulling on a chain, subsequently there are the driven versions which are the simplest to control through the use of remote/pendant control. The ball bearings enable smooth travel whilst the geared and powered models allow more precise placement of the trolley, they are also able to be transported whilst under load so is a major benefit over the beam clamp, yet a locking device can be added to lock it in position if necessary.
For safety's sake it is vital to ensure that the beam clamp or trolley is the proper dimension for the beam and of the appropriate capacity for the object to be lifted. You must always make sure they are securely fitted to the beam before every use and should never be utilised on damaged or distorted steel beams. Evidently you must on no account exceed the safe working load and you should furthermore ensure the beam alone is capable of taking the weight of the load and devices used.
The bulk of cranes of any style use some kind of beam clamp or trolley system due to the fact that they have steel "H" beams. Both are uncomplicated to fit and maintain and provide safe and secure anchor points for all supplementary lifting devices, such as electric hoists, chain blocks, lifting magnets, ratchet lever hoists and wire rope winches etc.