What is an Electric Hoist?
Usually, electric hoists will not used alone. They are often mounted on single girder overhead crane, monorail crane, jib crane and single girder gantry crane as the lifting part. If your need to hoisting some project and move it to another place, please select a proper crane, rather than only a hoist. Typically, there are many kinds of electric hoists for sale in DGCRANE, we provide you: electric wire rope hoist and electric chain hoist.Of course, electric hoists are  independent part, it can works on it own.
No
Electric wire
rope hoist
New type electric
wire rope hoist
Capacity
0.5~16ton
1.6~12.5ton
Hoisting speed
8m/min
1.6,1.0m/min
Travel speed
20,30m/min
2~20m/min
Duty group
H3
H4
Wire Rope Hoist VS Chain Hoist
What criteria should it apply to choosing an electric hoists for sale: electric wire rope hoist OR electric chain hoist. A lot of people are confused at this. A miss application of these electric hoists is serious, and you will pay for it. So, take it serious, and read further on this question.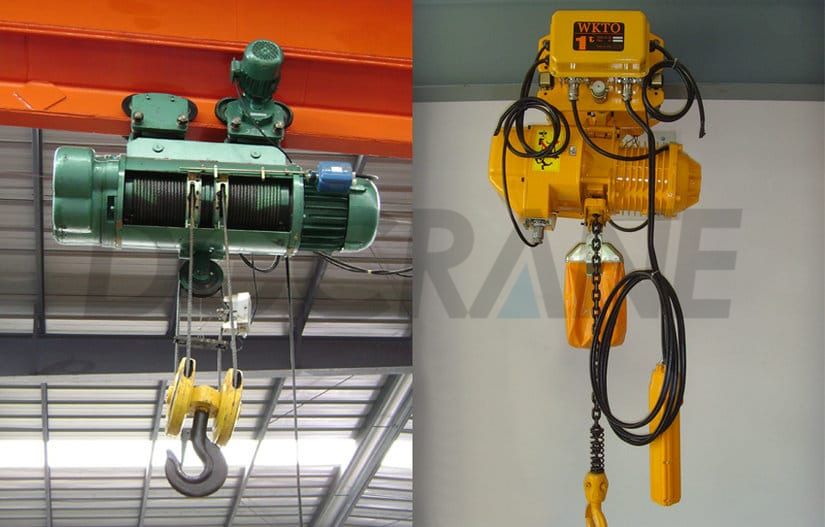 there are some main factors you need to concern:
 Capacity – Just as shown in the table above, the electric chain hoist is mainly used in under 5 ton, and the electric wire rope has a bigger capacity range. Also there are some electric hoist has a higher capacities, it is special for special applications. Here, we just briefly talk about the difference between them. For more information, you can just check it out from our engineers.
Application – Due to the structure of chain hoist, the chain must move up and down straightly. While, the rope run around the hoist drum in wire rope hoist, so it can hoist the load at certain angle.
Duty group – Also, electric chain hoist has almost the same duty group compared with the  electric wire rope hoists shown in the table. In fact, due to the structure of gear and chain, it is not very suitable for very frequent use which will create heat in the gears and will wear out quickly.
Price – Generally speaking, chain hoist cost less than the corresponding electric wire rope  hoists and has a less maintenance costs.
Production efficiency – The electric wire rope  hoists has a faster lifting speed and a higher production efficiency.